Work out your Square Area
In order to get your online estimate, you'll first need to know the Square Area of your project. Use this guide and Area Calculator to get your totals and simply drop them into our Concrete Cost Calculator.
The system of measurement below is fairly simple, so anyone should be able to find out the Square Area of even the most complex shapes. Including combinations of square, rectangular, triangular, curved or zig-zag paths, patios and driveways etc. The basic calculation is Area = Length × Width.
You may need to break up your measurements into groups to accomodate the various shapes but once you have your figures just drop them into our Area Calculator. It keeps a running total for you, of up to 5 different areas, 3 triangular areas and will round your totals to the nearest square metre.
The Square Area of a basic shape, like a square or rectangle is calculated by multiplying the length by the width. For a basic shaped project this should be easy.

Simply measure the total length of the centre line of your zig-zag shape and multiply this by the width, as per the diagram below. Sometimes it may be easier to lay a rope or hose down the centre line to get your measurement.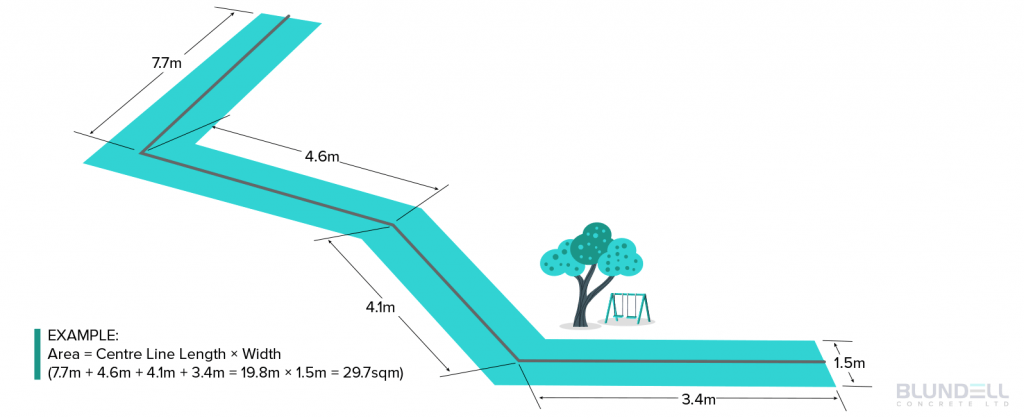 As with a zig-zag shape the approach is the same, measure the total length of the centre line and multiply this by the width, as per the diagram below. Tip: Use pegs to hold your centre line in place, and an additional rope and peg to get the precise curves you need.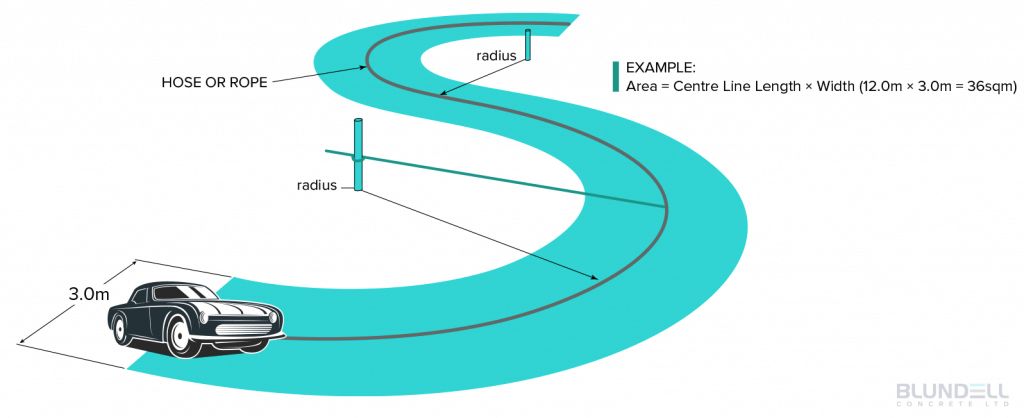 If you have leftover triangular shapes that do not get calculated, the math is slightly different. You will need to measure one side to find the width, then measure at right angles to the width side to find the height as per below. These measurements can then be added to our Area Calculator as a 'Triangular Shape'

If you live in the greater Auckland area between Pokeno and Whangaporoa. Don't forget, we're always happy to visit your site, take measurements and provide an obligation free inspection and quote.
Or, why not take a few photos and send them through? Use our contact form to tell us a little about your project and attach your pics. This really helps us speed up the process and ensures your site visit is timely and efficient.
Area Calculator
Drop your measurements in below and calculate your area now.
TRIANGULAR AREA THREE
FORM RESET
Ready to calculate your cost?